Navigation: Tools >> Utilities >> Manufacturing >> BOM Import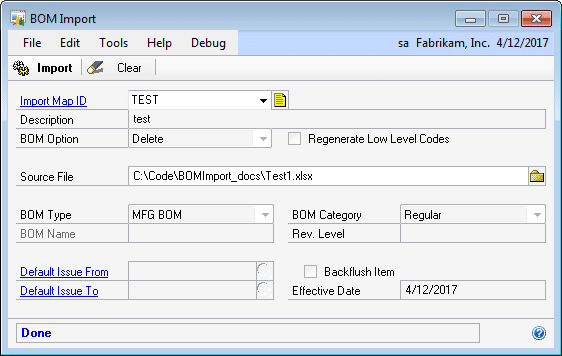 There are several fields on the bottom of the window that are used by customized versions of BOM Import. If you have special requirements for an import which cannot be met through the existing functionality of BOM Import, please contact us to discuss creating a Custom Adapter to meet your needs.
Import Map ID: select the Map ID to use for the import.
Source File: select the source file. The import file must be an Excel spreadsheet, and the first sheet in the workbook must contain the data to import.
Import: Click the Import button to begin the import. The import process will:
Validate Data. See the BOM Import Field Map for the validations performed on each field. All errors will be reported.
No changes are made/nothing is imported if ANY validation fails.
If any errors are found the entire import will stop. Nothing will be imported if there are any errors, and no changes will be made in GP. An Error Log Report will print specifying the error and the Excel Row of the data containing the error.