Open the Reconcile Bank Statements window: Transactions >> Financial >> Reconcile Bank Statement. Enter required fields, then click the TRANSACTIONS button.

The TYPE field for deposits is changed from DEP to a code that provides more information about the document(s) contained in the deposit.
K = Checks
S = Cash
C = Credit Cards
If the deposit contains ONLY Credit Cards, the Credit Card deposits are further coded based on the Credit Card Name. The first letter of the Card Name will be displayed for up to three cards. If there are more than three card types, then C* will be displayed.
As shown above, "BGP" indicates the deposit contains Bankcard, Gold Credit, and Platinum Credit.

When a record is selected in the scrolling window, the Transaction Description will be displayed in the Title Bar of the Select Bank Transactions window.
Auto-Zoom
Auto-Zoom automatically refreshes any of the open Zoom windows when a new document is selected in the Bank Rec window. For example, once you have opened Bank Deposit Entry Zoom, each time you click on a new deposit, the zoom window will automatically refresh with the selected deposit.
Advanced Filters
Advanced Filters provide the ability to sort and restrict the Bank Rec window by any of the Type values. Open the Filters window by selecting Additional >> Advanced Filters.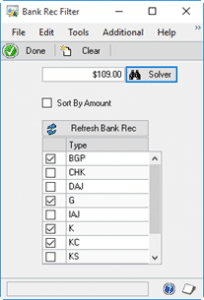 Restrict the scrolling window to one or more document types by marking the checkbox next to the Type you want to show. Click the Refresh Bank Rec button to redisplay the scrolling window.
Mark Sort By Amount to sort the scrolling window by amount.
Solver
Sometimes the way deposits are recorded in GP is not how they are received at the bank, which can result in a single deposit on the Bank Statement being comprised of multiple deposits in the GP Bank Rec window. Trying to find which combination of deposits adds up to the Bank Rec amount can be very time consuming. The Solver integration addresses this need.
Begin by restricting the Bank Transactions window by Type. For example, mark the box(es) next to one or more Credit Cards. In the field next to the Solver button, enter the Amount you need to find. Click the Solver button. The displayed transactions will be sent to Excel with the Excel Solver Add-In loaded.
There are instructions in the Solver.xlsx template (which opens when you click the Solver button). Click the INSTRUCTIONS Tab and follow the instructions in the spreadsheet for how to use Solver.