Open Checkbook Register Inquiry (Inquiry >> Financial >> Checkbook Register)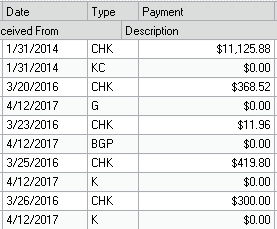 The TYPE field for deposits is changed from DEP to a code that provides more information about the document(s) contained in the deposit.
K = Checks
S = Cash
C = Credit Cards
If the deposit contains ONLY Credit Cards, the Credit Card deposits are further coded based on the Credit Card Name. The first letter of the Card Name will be displayed for up to three cards. If there are more than three card types, then C* will be displayed.
As shown above, "BGP" indicates the deposit contains Bankcard, Gold Credit, and Platinum Credit.

When a record is selected in the scrolling window, the Transaction Description will be displayed in the Title Bar of the window.
Auto-Zoom
Auto-Zoom automatically refreshes any of the open Zoom windows when a new document is selected in the Bank Rec window. For example, once you have opened Bank Deposit Entry Zoom, each time you click on a new deposit, the zoom window will automatically refresh with the selected deposit.
Advanced Filters
Advanced Filters provide the ability to sort and restrict the Bank Rec window by any of the Type values. Open the Filters window by selecting Additional >> Advanced Filters.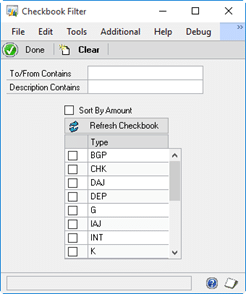 Restrict the scrolling window to one or more document types by marking the checkbox next to the Type you want to show. Click the Refresh Checkbook button to redisplay the scrolling window.
Mark Sort By Amount to sort the scrolling window by amount.
Search for documents using the Paid To/Received From and Description fields. The scrolling window will show only document CONTAINING the term(s) you enter. For example, entering "Tele" in the To/From field will return "International TeleCom Accoc", "WestAmerican Telphone Co", "Superior Telephone Systems", and so on.